What's On | Sunday 21st January 2018..

Adventure Park | Open
Victorias biggest and most exciting theme park is open for another supercharged summer! Open from October to April, there's awesome fun for the who family and kids big and small at Adventure Park! Various opening/closing times: see web site fo.. | View More..



Giant Sky Wheel
Come along and ride the largest travelling Ferris Wheel in the southern Hemisphere located now at the Geelong Waterfront! The oldest piece of carnival the Ferris Wheel brings magic and nostalgia to any event or city skyline. Whether youre young or.. | View More..


Akmal Saleh | Stand Up Comedy
Akmal Saleh Stand Up Comedy at Barwon Heads presented by The Wonderland Spiegeltent Movies, Sketch, Stand-Up, TV appearances, radio DJ and talk show host, improvisation and a published author, Akmal is one of Australia's most respected, successfu.. | View More..



Kylie On Stage
Kylie on Stage 09 December 2017 to 04 March 2018 Kylie on Stage celebrates magical moments from Kylie Minogue's highly successful concert tours. Drawn from Kylie's spectacular stage wardrobe held at Arts Centre Melbourne's Performing Arts Co.. | View More..



Queenscliffe Maritime Museum | Open
Escape into Queenscliffs fascinating past. The shipwrecks, the rescues, the lifeboat, and the Pilots who continue to bring ships safely through the Rip and into Port. You will experience this and more at the Queenscliffe Maritime Museum. OPEN HOUR.. | View More..



RAAF Museum | Open
The RAAF Museum is a 25-minute drive south-west from Melbourne along the Princes Freeway. Take the Point Cook Road exit and follow the tourist signs to the museum. The RAAF Museum is approximately 400 metres beyond the entrance to the RAAF Base. .. | View More..


| | |
| --- | --- |
| ❊ Film Festivals & Showing ❊ | |
Movie Nights at Barwon Heads
Frozen Sing-a-long Ghostbusters My Life As A Zucchini Spirited Away The BFG The Fox & The Child Willy Wonka & the Chocolate Factory Frozen Sing-a-long Tue 09-Jan-2018 11:00AM Tue 09-Jan-2018 06:30PM presented by Wonderland Spi.. | View More..


| | |
| --- | --- |
| ❊ Garage Sales | Car Boot Sales ❊ | |

Garage Sales | This Weekend
Check out the Garage Sales on today courtesy of Gazzas Garage Sales. Gazzas Garage Sales is Australias best known Garage Sales calendar showing every garage sale this weekend and upcoming sales Australia wide. --> View This Weeks Garage Sales .. | View More..


Barwon Park Mansion | Open
Barwon Park was built by Thomas Austin, and completed in 1871. A magnificent building which has had much restoration work, it is open to visitors twice a week and well worth a visit. Open Wednesday and Sunday, 11am to 4pm, June to August. Open.. | View More..



HM Prison Geelong | Open
The Old Geelong Gaol formerly a high security prison remains much the same as when it ceased operation in July 1991. Open to the public each Saturday and Sunday school holidays and public holidays Closed Christmas Day Boxing day New Years day an.. | View More..


| | |
| --- | --- |
| ❊ Markets | Art, Craft & General ❊ | |

Aireys Inlet Market | January
Aireys Inlet Community & Farmers Market every Sunday in January Aireys Inlet Community Market is a community-owned authentic farmers market specialising in fresh produce, locally made goodies, and art & craft, held at Aireys Inlet Community Hall .. | View More..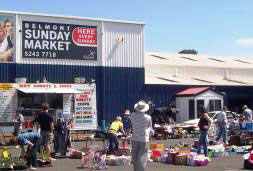 Belmont Sunday Market
The Belmont Sunday Market runs every Sunday rain, hail or shine at the Barwon Valley Activity Centre in Belmont Geelong. Belmont Sunday market is home to Geelongs Biggest Garage Sale with all sorts of pre-loved treasures, including electrical good.. | View More..



Drysdale Community Market
The Drysdale Community Market has been delighting market-goers for over 35 years and is a major fundraising effort of Drysdale Primary School. Drysdale Market has over 100 stalls with handcrafted items, home produce, rides, playground and food. .. | View More..


➼ Show [4] Markets | Art, Craft & General
| | |
| --- | --- |
| ❊ Markets | Food & Produce ❊ | |

Osborne House Makers & Growers Market
In the grounds of historic Osborne House overlooking Corio Bay. Arts, crafts and fresh produce, vegetables, vegetarian food, cheeses, olives, herbs and spices, jams, plants and flowers. Locally handcrafted goods: Cushions, candles and melts, ti.. | View More..



National Wool Museum | Open
At the National Wool Museum, you will discover why fleece from Australias sheep has been the heart of our economy for 200 years. Since the arrival of sheep with the First Fleet in 1788, the wool industry has dominated our economy, our agriculture .. | View More..



Catch | Daily Deals
Have Catch daily deals delivered piping hot to your inbox. Do you remember Catch Of The Day, well now we're known simply as CATCH, fast daily deals delivered right to your door. Catch offers over 13,000 branded products across a wide range of c.. | View More..



Creswick Woollen Mills Tour | A Very Fine Yarn
The Creswick Woollen Mills tour experience 'A Very Fine Yarn' showcases the journey of fibre; all the way from its source on the alpaca through the manufacturing process and how it ends up on the shop shelf. The exhibit gives a great insight into.. | View More..


Guided Walks | Geelong Botanic Gardens
Friends of Geelong Botanic Gardens present a series of special events and activities.. Guided Walks Guided walks are conducted by a trained Friends Voluntary Guide every Sunday at 2:00pm. Meet your guide at the front steps of the Geelong Botani.. | View More..



Otway Fly Tree Top Walk & Zip Line Tour
Otway Fly Treetop Adventures offers a whole host of experiences with the two core activities being The Otway Fly Treetop Walk and The Otway Fly Zip Line Tour. The Otway Fly is a 600 metre long 25 metre high elevated tree top walk ascending at a ge.. | View More..