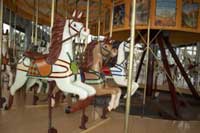 Come and spend some magical time at the beautifully restored Carousel at the Geelong Waterfront, turning 120 years old in 2012.
The Carousel has become an ideal accessible meeting place for the community, and we take pride in providing a memorable experience for all ages and abilities.
This has been made possible with improved access to the pavilion, the welcome installation of a mobility lift and recharge point.
The mobility lift enables a wheelchair to go on the Carousel ride and was specially designed to respect and complement the history of the Carousel.
The Armitage-Herschell portable steam driven, hand-carved wooden carousel was constructed circa 1892 and is one of only 200 in operation around the world.
Featuring 36 Dare horses and 2 chariots, it was purchased by the Steampacket Place Development Board in 1996 and painstakingly restored.
There is also a replica 1898 Gavioli Band organ in the pavilion.
Open
The Carousel is open at the following times:
October to March:
Monday to Friday: 10:30am to 5:00pm
Saturday: 10:30am to 6:00pm
Sunday: 10:30am to 6:00pm
April to September:
Monday to Friday: 11:00am to 4:30pm
Saturday: 10:30am to 6:00pm
Sunday: 10:30am to 6:00pm
Prices
Entry to the Carousel Pavilion is free, only those actually riding the Carousel need to buy a ticket.
Ticket Prices:
Children: $3.70
Adults: $4.20
Concession: $3.70
Multiride Tickets: $32.00
Group discounts are available.
Carousel and Waterfront souvenirs, drinks, icecreams and confectionary are available.
Functions and Events
The Carousel is available for:
-:- Wedding ceremonies
-:- Wedding photos
-:- Wedding receptions
-:- Corporate functions
-:- Childrens birthday parties
Visit the website via the link below for more information.
1 Eastern Beach Road Geelong Victoria 3220 | Map
Telephone: 03 5224 1547



❊ Web Links ❊

➼ The Carousel

➼ www.geelongaustralia.com.au




❊ Be Social ❊
Update This Page