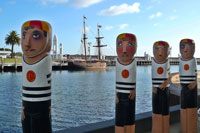 A walk along the Geelong Bollards Trail always results in meeting some interesting characters.
The Geelong Bollards are painted wooden bollards representing over 100 historic Geelong characters, and are one of the main attractions for people visiting Geelong.
Located along the waterfront beaches from Limeburners Point to Rippleside Park, the 100+ bollards are situated at 48 sites and consist of lifesavers, families, footballers, sailors, town bands, fishermen and more.
Artist Jan Mitchell was commissioned by the City of Greater Geelong in 1995 to transform reclaimed timber pier pylons into these remarkable works of art.
Following the Bollard Trail, you will meet some of the unique characters who played a part in Geelongs history, from the original Indigenous inhabitants to more contemporary characters.
The Waterfront Geelong Bollards Trail is a one-way trail and is best started near the Geelong Botanic Gardens or at Rippleside Park.
Waterfront Geelong Bollards Trail - 48 Sites
Estimated Walking Time: 2 hours one way.
1: LIMEBURNER
One of Geelongs earliest industries was lime burning, and as early as 1841 lime was exported to Launceston, Tasmania.
2: MATTHEW FLINDERS
Corio Bay was sighted from the You Yangs by Matthew Flinders in May 1802.
3: PORTUGUESE EXPLORER
The Portuguese explorers were said to have landed before Captain Cook.
4: KOORI FAMILY (3)
A family illustrating the local hunter gatherer culture.
5: NURSE
In 1932 during the Depression, the Mother Hubbard Relief Fund was set up. The Geelong Hospital was founded in 1852 near this site.
6: EASTERN BEACH OPEN SEA BATHERS (4)
The former site of Eastern Parkside Baths built in 1930.
7: BATHING TABLEAU (5)
A display of changing styles of bathing costumes: 1880s woman, 1920s man, 1940s woman, 1950s woman and a 1930s lifesaver.
8: EASTERN BEACH LIFE SAVERS (5)
Within this group there is a portrait of Billy Coyte who taught many generations of Geelongs children to swim.
9: ROBERT DE BRUCE JOHNSTONE
A portrayal of the "Mayor" of Geelongs "parks and gardens". Johnstone Park, which was established in 1864, is named in his honour.
10: IAN MACDONALD
A portrait of Geelongs city surveyor who produced the plans of the Eastern Beach complex which opened in 1939.
11: CAR RALLY PICNIC COUPLE (2)
Positioned at the site of vintage car rallies and speed trials.
12: ULYSSES RIDING CLUB
In 1983 Stephen Dearnley founded the motorcycle club for older riders - see the Clubs motto: "Grow Old Disgracefully" on his back.
13: BATHING BEAUTIES (4)
The beach front was the venue for beauty competitions from the 1930s.
14: TOWN BATHS SWIMMERS CLUB (5)
A progression of lifesavers displaying the changing styles of mens swimming trunks.
15: JOY ARK SANDWICH BOARD MAN
This gentleman advertises the Joy Ark which was built in 1912 as a silent picture movie hall and entertainment venue.
16: PIERROT
The Joy Ark became a hall popular for dance and roller skating in 1914 with fancy dress often featured.
17: EARLY GEELONG FOOTBALLER
A nearby field, which became Transvaal Square, was used for football practice.
18: MRS DE CARTERET
This is a portrait of the proprietor of "La Cabine", located on the corner of Yarra and Brougham Streets and once famous for its lemon squash.
19: YACHT CLUB LADY
Geelongs Yacht Club was formed in 1859. The lady is holding the trophy won by "The Paddy" after racing in the first Geelong Regatta.
20: FIREMAN
Established in 1854, the Geelong Volunteer Fire Brigade is represented by this figure reflecting the burning of the "Lightning" in 1869.
21: SCALLOP FISHERMEN AND WOMAN (3)
From the early 1800s, fish and crustaceans from Geelong were marketed and sold locally, as well as in Melbourne.
22: TRAM CONDUCTRESS
This is a 1940s tram conductress. Trams in Geelong ran from 1912 to 1956.
23: VOLUNTEER RIFLE BAND (5)
Playing "The Geelong Polka", this group represents players in Geelongs first band concerts which were held in the Botanic Gardens in 1861.
24: GEELONG BATHS SWIMMING CLUB (5)
A carnival atmosphere prevailed on the bay during early Geelong Regattas. Activities included duck hunting, greasy pole competitions, bun eating contests and races in tubs.
25: SAILOR AND WOMAN (2)
A 2nd World War couple representing the Sailors Rest institution building, corner Moorabool Street and Eastern Beach Road (now a restaurant).
26: STEAM CAPTAIN
Captain of the steamship S.S. Edina, in operation from 1888 to 1938.
27: SAIL CAPTAIN
A captain bringing live birds to stock the nearby Botanic Gardens aviaries and also a portrait of a recent Mayor of Geelong, Gerry Smith.
28: VICTORIA BATHS SWIMMERS (4)
Swimmers characterising the Victoria Bathing Establishment (1870).
29: WESTERN BEACH SEA BATHING CO. (5)
Western Beach Sea Bathing Company swimmers (established in 1872). These are also portraits of politicians Gordon Scholes, Nipper Trezise, John Howard, Jeff Kennett and Sir Hubert Opperman as a young man.
30: CARRIE MOORE
Born in Geelong in 1882, Carrie became a musical comedy star, performing in Melbourne at age 14 and in London age 21 and was best known for her role as the Merry Widow.
31: PETER LALOR
After losing an arm during the skirmishes as leader of the Eureka Stockade uprising, Peter Lalor found sanctuary in Geelong.
32: SALVATION ARMY WOMAN
The Salvation Army has been active in Geelong since 1883.
33: CORIO ROWING CLUB (3)
Corio Rowing Club (founded 1873) rowers stand beside their original boatshed built in 1879. It is now home to Western Beach Boat Club.
34: 1920S LADY
This woman represents the emancipation of the 1920s. Sun-bathing regulations were enforced up to the 1930s.
35: JOHN RADDENBURY AND LADY (2)
Geelong Botanic Gardens second curator, John Raddenbury in 1872.
36: NANCY NATTYKNICKERS
Nancy sits astride her velocipede. The first velocipede was made in Geelong in 1869. In 1865 women first started wearing trousers to assist them to cycle.
37: FATHER AND SON FISHING (2)
A favourite pastime in the past, and enduring to the present.
38: JAMES HARRISON
The founding editor of the Geelong Advertiser (1840), James Harrison was also one of the inventors of commercial refrigeration (Patent issued in 1855).
39: SUNDAY SCHOOL GROUP (5)
Following the opening of the Geelong-Ballarat Railway Line in 1862, Geelong became a popular destination for Sunday School picnics.
40: SCOTSMAN
The early Scottish settlers brought their popular Highland Games to Geelong, at which the Indigenous people often participated.
41: KOORI HUNTER
The Wathuarong people of this area are depicted by this hunter, who is wearing a possum skin cloak.
42: PHOTOGRAPHIC GROUP (6)
This family, tucked away in the alcove by the old bluestone wall, represents the many Geelong families who have picnicked by the bay since first settlement.
43: 1910 POLICEMAN
This Law Enforcer is ready to pounce on a couple who are breaking the strict segregated bathing regulations of the day.
44: NO MIXED BATHERS (2)
A pair of sheepish bathers who have transgressed the bathing regulations.
45: NUNS (2)
The Sisters of Mercy, of The Sister House located in St Helens, played an important role in educating residents of early Geelong. Sister Mary Aloysius and Sister Mary Bernadette were two such nuns.
46: RIPPLESIDE SWIMMING CLUB (5)
Geelong children were taught how to swim by using a kerosene tin float, situated near the site of the Corio Bathing Establishment, founded in 1844.
47: STUDENT TEACHERS (2)
Student teachers Elsie and Lydia represent Lunan House, which was built in 1851 and used as a trainee Teachers College between 1949 and 1984.
48: MORRIS JACOBS
Morris Jacobs, of Jacobs Stores (from 1852-1952; now Myers), kept a bird aviary at his residence on the Esplanade, Drumcondra.
RABBITS! RABBITS! RABBITS!
As you go, try and find the rabbits painted on numerous bollards, symbolic of the wild rabbits introduced by the English to Australia, that now wreak havoc on the landscape and agricultural industries.
Thomas Austin arrived in Corio Bay in 1859 with the first pairs of rabbits for his hunting pleasure, and they bred like rabbits. Because there is no natural predator of the rabbit in Australia their population exploded. So some bright spark introduced the fox. Guess what? No natural predator for the fox either. Of course all this happened back in the mid 1800s before ecology was so well thought out but 150 years later, its still a problem. Statistics say there are now around 300 million rabbits in Australia.
❊ Address & Contact ❊

⊜ Limeburner's Point to Rippleside Park Geelong Victoria 3220 | Map



❊ Web Links ❊

➼ Geelong Bollards Trail

➼ www.geelongaustralia.com.au

➼ www.alborsdesign.com




❊ Be Social ❊
Update This Page