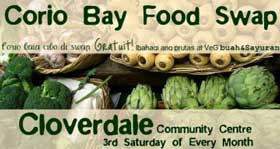 Swap your excess garden produce at the Cloverdale Food Swap, held on the 3rd Saturday of every month, 9am-11am at the Cloverdale Community Centre.
Swap: 9am - 11am
| Come and swap all your excess produce for fresh homegrown or made, ANYTHING!
Buy: 10am-11am
| Nothing to swap? From 10am-11am, the table will be open to sales by way of donation.
If youre swapping, bring along your homegrown food, place it on the swap table and take whatever you think is a fair exchange. Honour system. No need to haggle.
Homegrown fruit, veg, herbs, seeds, plants, eggs, homemade jam,seedlings of plants or trees, plant pots, JARS,recyclable packaging etc
We can help with picking fruit or other harvesting; call us on 03 5275 4415.
Stay for a cuppa and meet like-minded people in your community, while reducing your food bills and food miles!
Date
: Saturday 19th of May 2018
Cloverdale Community Centre, 167-169 Purnell Rd Corio Victoria 3214 | Map
Telephone: 03 5275 4415



❊ Web Links ❊

➼ Cloverdale Food Swap

➼ www.swapshuffleshare.com




❊ Be Social ❊


Publisher Statement: Details can change at any time. Readers are advised to check with the advertiser (links above) before proceeding.
➼ Advertising Disclaimer


➼ Content Editor