Come along and ride the largest travelling Ferris Wheel in the southern Hemisphere located now at the Geelong Waterfront!

The oldest piece of carnival the Ferris Wheel brings magic and nostalgia to any event or city skyline. Whether youre young or young at heart a trip to any fair ground is not complete without a ride on the Ferris Wheel.

HiLite Amusements are proud to present to you the largest most spectacular Ferris Wheel that the Southern Hemisphere has to offer The Giant Sky Wheel.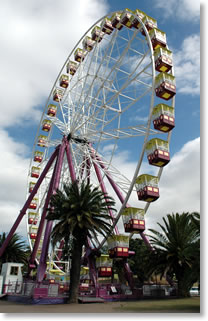 Come and ride the largest travelling ferris wheel in the southern hemisphere.

Being only an hour by train from Melbourne Geelong provides a wonderful day out. The Geelong waterfront is a cosmopolitan and vibrant area a hive of activity with restaurants and cafes beautiful landscaped gardens attractions and public art.

So come along take a ride and check out the fantastic views of Corio Bay from the heady heights of the Giant Sky Wheel. Or if you prefer to keep your feet planted firmly on the ground simply enjoy the atmosphere and excitement of the Wheel and in the evening the spectacular light show.

Open 7 Days and all public and school holidays.

Please note that the last ride will be sold 15 minutes before these closing times. Times and availability may change due to maintenance weather or other operational reasons.

Tickets

Tickets can be purchased at the wheel.

Adult / Child - $8.00 Per Person (NO BOOKING REQUIRED)
Group Bookings (20+) - Please call 0439 043 975 for a price (BOOKING REQUIRED)

The ride takes approximately 7 - 10 minutes.
❊ When ❊
Days: Monday, Tuesday, Wednesday, Thursday, Friday, Saturday, Sunday
Time: Monday - Thursday 12pm - 11pm | Friday 12pm - 12pm | Saturday 10am - 12pm |Sunday 10am to 11pm


Ritchie Boulevard Geelong Victoria | Map
Telephone: (03) 5250 5733 | Bookings: 0439 043 975



❊ Web Links ❊

➼ Giant Sky Wheel

➼ www.hilite.com.au

➼ Pictures of Giant Sky Wheel

➼ www.facebook.com/pages/Giant-Sky-Wheel




❊ Be Social ❊


Publisher Statement: Details can change at any time. Readers are advised to check with the advertiser (links above) before proceeding.
➼ Advertising Disclaimer


➼ Content Editor