Aireys Inlet Market | January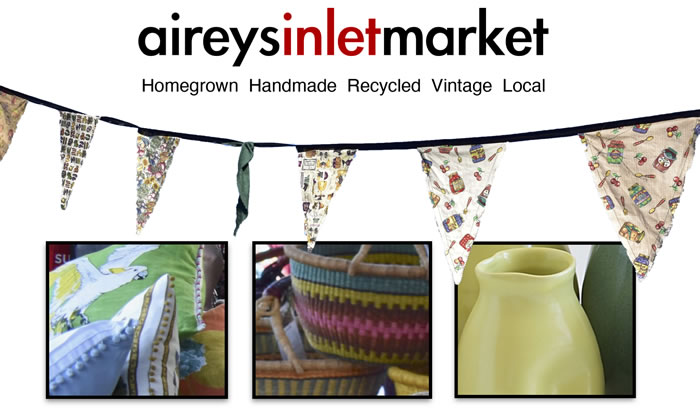 Aireys Inlet Market is a boutique market offering authentic homegrown, handmade, recycled, vintage and local goodies.
With a cosy indoor/outdoor setting, the Aireys Inlet Market is perfect in all weather and has become a Sunday morning mecca for Aireys locals seeking out a more sustainable shopping experience
Visitors enjoy a wide variety of merchandise such as local art, bespoke homewares, crafts and lots more, along with a large variety of the best local and regional food, produce and value-added food products.
Please join us on our next market at the Aireys Inlet Community Hall. Look for the flags, you can't miss 'em.
Seeking Stallholders
Aireys Inlet Market already has a lovely group of marketeers but we do welcome applications from new stallholders. If interested, please email Libby Stapleton at aireysinletmarket@bigpond.com
Dates and times
Selected Sundays every month of the year, every weekend in January, plus the Saturday of Cup Weekend and a Saturday evening 'Twilight Market' on 19 January 2019.

Selected Sundays

Every weekend in January

Saturday of Cup Weekend
DATES IN 2018
OCTOBER 7
NOVEMBER 3
NOVEMBER 18
DECEMBER 9
DECEMBER 30
DATES IN 2019
JANUARY 6
JANUARY 13
JANUARY 19 - Twilight Saturday Market
JANUARY 27
FEBRUARY 10
MARCH 10
APRIL 21
MAY 5
JUNE 9
Next Market
❊ When ❊
From
: Sunday 6th of January 2019 To Sunday 27th of January 2019
Time:
9am - 1pm
Aireys Inlet Community Hall, Great Ocean Road, Aireys Inlet Victoria | Map
Telephone: 0413 254 284



❊ Web Links ❊

➼ Aireys Inlet Market | January



❊ Also See.. ❊

➼ Aireys Inlet Market



❊ Be Social ❊


Publisher Statement: Details can change at any time. Readers are advised to check with the advertiser (links above) before proceeding.
➼ Advertising Disclaimer


Update This Page